MyBible for iOS exposes user's data, downloaded and entered in the app – these data can be accessed from a Mac using Finder, and from a Windows PC using iTunes.
MyBible data folders
MyBible exposes several data folders:
BookmarkSets
Modules
Profiles
Themes
It is unlikely that you need to manipulate content of any of these data folders except for "Modules" (because only the modules format is documented). But copying of them all to your computer is backing up of MyBible data.
If you are a MyBible tester, as a precaution please back up all the MyBible folders before installing a test MyBible version.
The section below gives an idea how to copy MyBible data folders.
Adding a module
Connect your iPhone to your computer.
Open Finder on macOS or iTunes on Windows.
Select your iPhone on the sidebar in the "Locations" section.
Select the "Files" tab.
Expand the "MyBible" item.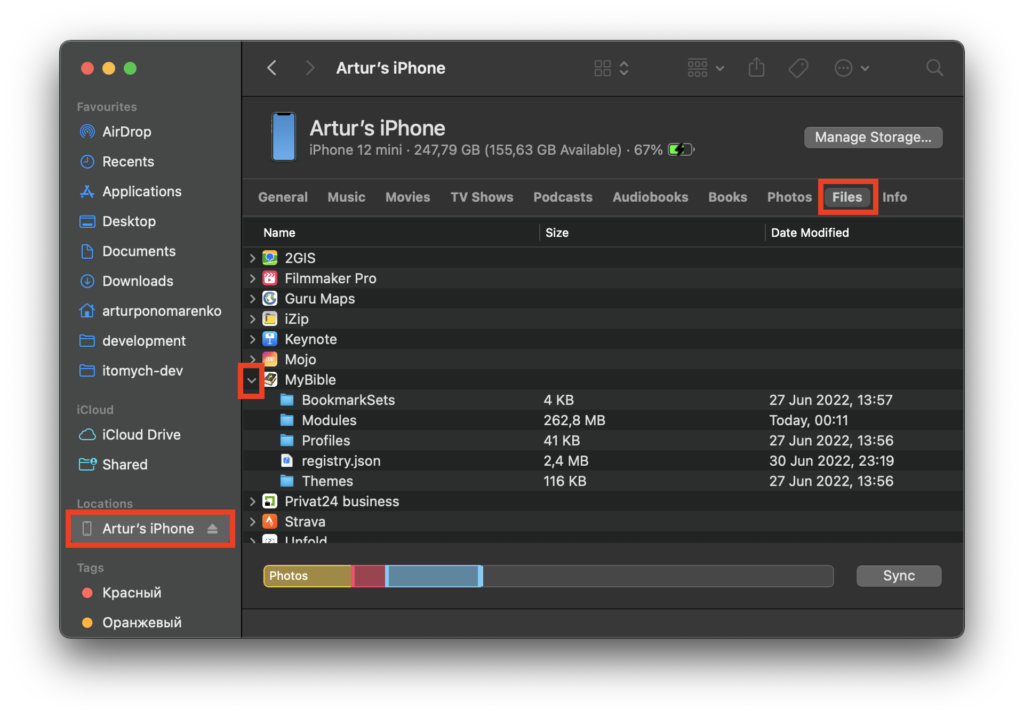 Note that you can't modify content of folders directly in this window. So to change it you need to copy it to your computer, modify the copied folder, and then move it back to MyBible. Keep the folder name as is, for MyBible to find it on your iPhone then.
Drag the "Modules" folder to your computer, to copy it – e.g. to "Desktop".
Add (copy) your modules to the copied "Modules" folder.
Drag the "Modules" from "Desktop" back to "MyBible".
Note that you won't see a copying progress indication, but at the end of the process the folder size will change. It will either increase or decrease depending on whether you have added or removed files respectively.
Tap "Sync".
After synchronization of the updated MyBible folder, the system will start backing up your iPhone to your computer – this has no relation to MyBible, so you might want to skip this by clicking "Skip backup".
Tap the "Eject" button.
macOS
MyBible data on macOS are located in the following hidden folder:
Users/<your-user-folder>/Library/Containers/MyBible/Data/Documents
You can toggle showing of hidden files and folders in FInder by pressing the [⌘⇧.] key combination.